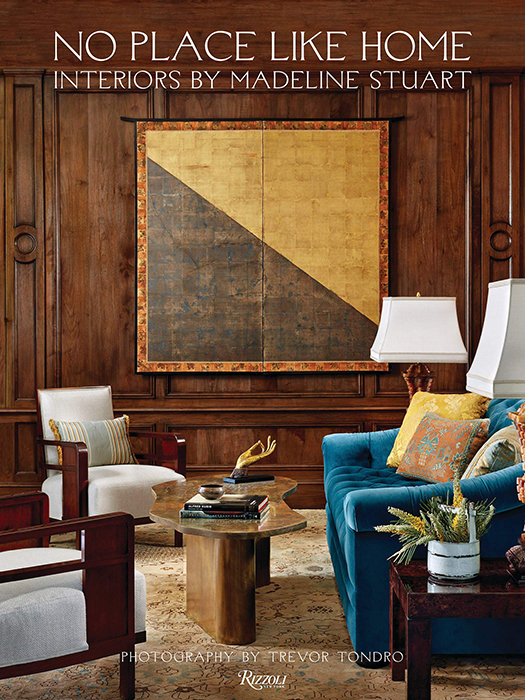 No Place Like Home
In No Place Like Home, Madeline writes eloquently about her recent work. With insight and wit, she walks the reader through her design process, from initial vision to execution. From the meticulous renovation of Cedric Gibbons's Streamline Moderne house to a newly built Montana ranch to a Mediterranean-inspired residence on the California coast, each project is informed by Madeline's keen understanding of history and craftsmanship as well as her skill with scale, proportion, and balance. These, along with her unexpected combinations of furniture and fine-art and decorative elements, result in richly layered interiors that feel authentic to their period and place, while remaining always relevant, modern, and beautiful.
Written by Madeline Stuart
Foreword by Mayer Rus
Photographed by Trevor Tondro
Book Tour and Appearances
September 10, 2022
Santa Barbara, CA
Cabana Home
TBD.
1:00 p.m.
May 4, 2022
West Hollywood, CA
Marc Phillips for LCDQ – Legends
Book signing and panel: Clients from Hell
1:00 p.m.
April 28, 2022
Houston, TX
Elegant Additions
Book signing and lecture:Past is Prologue
1:00 p.m. to 3:00 p.m.
March 23, 2022
West Hollywood, CA
Pacific Design Center – Phillip Jeffries and PDC Atrium
Book signing and panel: Pure Imagination
11:00 a.m.
March 2, 2022
Los Angeles, CA
Bel Air Garden Club
Book signing and lecture.
11 a.m.
October 28-29, 2021
Cape Cod (Chatham), MA
Luxury Home Design Summit
Book signing and lecture.
April 29, 2020
Los Angeles, CA
ICAA
Book signing and lecture.
March 12, 2020
Washington, DC
Sulgrave Club
Join Madeline as she discusses the restoration of the iconic streamline moderne Cedric Gibbons home in Southern California. Book signing to follow.
March 5, 2020
Charleston, SC
Urban Electric Company
Preservation Summit for the Charleston Antique Show
2:00 p.m. to 3:30 p.m.
February 29, 2020
Thomasville, GA
Thomasville Antique Show
Brunch, Lecture and Book Signing
Restoring a Streamline Moderne Masterpiece: The Cedric Gibbons/Dolores del Rio House
10 a.m.
February 27, 2020
Hollywood, FL
Jerry Pair at the South Florida Design Park
Lecture with Jeffry Weisman
Design Inspiration: What to Look For, Where to Look, and How to Use It
Join Madeline Stuart and Jeffry Weisman for a conversation about their approach to an individual and richly inspired creative process.
Book Signing to Follow
4:00 p.m.
February 6, 2020
San Francisco, CA
Design San Francisco
HEWN at the San Francisco Design Center
Join Madeline Stuart, channeling the role of the esteemed Alex Trebek, as she hosts Jeffry Weisman, James Hunter, and Kendall Wilkinson in a cut-throat, hilarious, and extremely competitive round of Designer Jeopardy!
11:30 a.m.
December 10, 2019
Los Angeles, CA
Thomas Lavin Showroom at the PDC
Design Dish – The Good, the Bad, and the Ugly
Conversation with Madeline, Thomas Lavin and Mayer Rus
Cocktails and Book Signing to Follow
5:30 p.m. to 7:30 p.m.
November 14, 2019
Memphis, TN
Decorative Arts Trust
Free and Open to the Public
Brooks Museum of Art – Auditorium
Lecture and Book Signing
6 p.m.
November 12, 2019
Houston, TX
Chateau Domingue – Private Residence
(By invitation)
October 18, 2019
Beverly Hills, CA
Virginia Robinson Gardens
Lecture
(By invitation)
October 16, 2019
New York City, NY
Walters Wicker at the Decoration & Design Building
Join Madeline in discussion with Galerie Editor-in-Chief, Jacqueline Terrebonne
Book Signing to Follow
3 p.m.
October 15, 2019
Greenwich, CT
Putnam and Mason
Book Signing
4 p.m. to 8 p.m.
October 8, 2019
Newport Beach, CA
Decorative Arts Society
Lecture
Membership Required or Non-Member Fee
Breakfast at 9 a.m., Lecture at 9:45 a.m.
October 5, 2019
Montecito, CA
William Laman
Book Signing
3 p.m. to 5 p.m.
October 3, 2019
San Francisco, CA
SF Fall Show at the Fort Mason Center
Madeline's World of Wander – Madeline details her searches far and wide for the beautiful and the marvelous.
11:00 a.m.
September 26, 2019
Atlanta, GA
Discover ADAC
ADAC Presentation Room, 1st Floor Atrium
Join Madeline in conversation with Atlanta Home & Lifestyles editor
Elizabeth Ralls to discuss the time honored tradition of hunting and gathering.
1:00 p.m.
Register Here
Reception and Book Signing to Follow at Jerry Pair
September 22, 2019
Santa Barbara, CA
Private Residence
(By Invitation)
September 19, 2019
Beverly Hills, CA
Marc Selwyn Gallery
Book Signing
(By Invitation)
September 12, 2019
New York City, NY
What's New, What's Next
Profiles Showroom at the NYDC at 200 Lex
Join Madeline and Elle Décor editor Ingrid Abramovitch
as they discuss the restoration of the iconic Cedric Gibbons home.
3:15 p.m.
More To Come!